I'm not really sure where to start here. But first, you, get your mind out of the gutter.
Do I even attempt to explain why I still watch The Bachelor? Do I tell you that even though I know it's going to be more ridiculous every season, I get a little excited when I see a promotional preview alluding to the "fact" that it's going to be the most dramatic season in Bachelor history? Ohhhh, the tears, the steamy hot tub scenes, the fairytale adventures, the rose ceremonies, the fantasy suite doors closing!! And you guys, what about all those straddle greets!? Yes, the straddle greets.
The fucking straddle greets.
I can't with this.
I mean, I can barely handle watching these girls get out of the limo anymore. I get so much anxiety when I see a costume, or a prop, or when some of their rehearsed attempts to make a memorable first impression don't play out as planned. It either sounded better in their heads, or they just didn't nail the timing. Painful. Crickets…
To be clear, I'm not judging. I have to give them credit for even putting themselves out there. I don't even like first dates when I'm not on camera. I can't imagine the pressure or the amount of IDGAF confidence one must need for that.
But, how real is it anymore??? (Ok, not going there. That's a completely different discussion I won't entertain, for the sake of hopeless romantics and pure Bachelor entertainment.)
Anyway, let's jump back to those straddle greets. (Pun intended)
*side note* If I had a team of researchers, I would for sure have them go through every episode of all 23 seasons to find out exactly when this bachelor 1:1 date requirement began and exactly how many straddle greets have been aired over the past 17 years. Along with a breakdown of how many per bachelor and if he has any correlating back issues now. I need to know. (Is that research or punishment? It doesn't matter. I don't have a team.)
Since when, do women greet men like this?
The percentage of this actually happening in reality has to be like in the one's or two's. I'm sure there is that rare occasion when someone might actually have the space for a running start upon first seeing someone they are madly in love with and have missed desperately for some reason or another. Sure, there have to be a few appropriate moments in one's life to take a flying leap into a mans arms, landing perfectly – legs wrapped completely around him, ankles locked, hair blowing, his arms securing you in, the look of bliss on both your faces. Especially someone you barely know, right? Instant intimacy.
God forbid, his knees buckle or the timing is off and you overshoot and hit chins; or even worse, he's not sure WTF is happening and was only prepared for a hug so you steamroll him, bust your lip and give him a minor concussion.
OMG, the horror.
At least on The Bachelor they get it every time. And Becca was like, profesh. Wonder if they still do that after a long day of work? Maybe we should all try it before our next coffee date? C'mon! Take a chance. Live like you're in reality TV!! Shall we give it a hashtag? #straddlegreetchallenge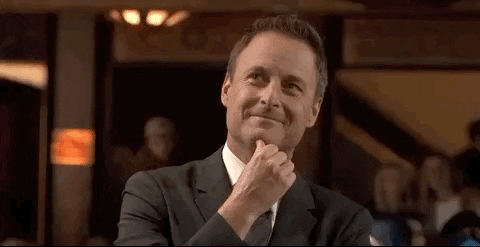 I'll do it. But only if I'm getting out of a limo and the Rock is standing there waiting for me. Or Momoa. I prefer someone topple proof.
Good luck with that. xo